Diagnosing sewer and water line problems can be difficult on your own, but not with Micro Plumbing of Omaha's sewer camera and sewage system inspection services. Micro Plumbing can channel a plumbing camera inside the sewer pipes so you can see what is obstructing the flow of water or causing the backup. Sometimes immediate repairs are required, but other times your pipes simply need roots or debris cleared, and some quick maintenance is all that is needed. Not every backup or slow drain needs replacement, and you can easily find out with Micro Plumbing of Omaha's sewer camera services.
THE "ROOT" OF SEWER PIPE LINE BACKUPS AND BLOCKAGES
One of the most common causes of sewer pipeline back-ups, cracked lines, and drainage problems is root infiltration. Roots from trees and larger shrubs seek a water source and enter the sewer line from a joint. They grow and expand to fill up the pipe with a hair-like root mass. The masses quickly become clogged with toilet paper, grease, and other debris coming from the home to the main sewer line. As the roots continue to grow, they put pressure on the pipe and it will eventually crack.
OTHER CAUSES OF SEWER BACKUPS AND CLOGGED PIPES
Lots of things can block, restrict, or damage water and sewer lines. Shifting soil or freezing ground can crack or collapse pipes. A build-up of grease, paper, waste, and foreign objects can prohibit proper flow and the passage of time can cause pipe corrosion or breaks in pipe seals. No matter the true cause, a sewer camera can investigate and pinpoint exactly what the issue is.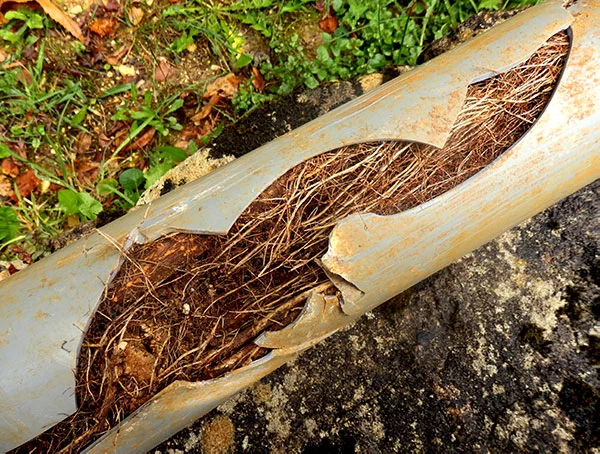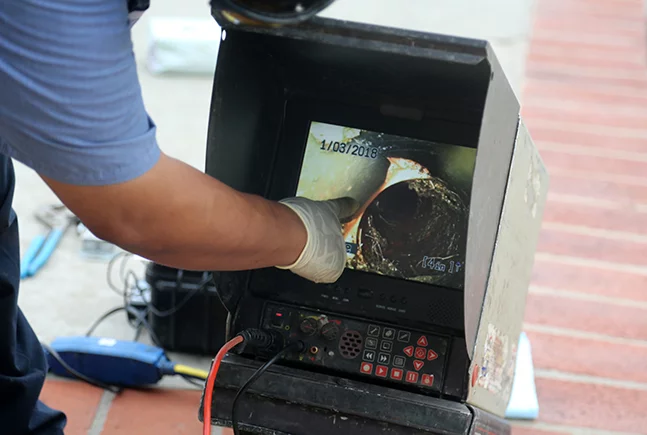 HOW DOES A SEWER INSPECTION CAMERA WORK?
Inspecting pipes with a sewer camera is a quick and simple process. Our Omaha plumbing company professionals will insert a long, flexible line that resembles a hose into the pipe in question. This line will have a small, high-resolution waterproof camera at the tip that transmits a real-time video to the equipment's monitor. This way, our plumbers can see exactly what is causing your pipe's backup. When we are done performing the inspection, we will have seen what's causing your sewer clog and will be able to best direct you towards the service or repair necessary.
BENEFITS OF SEWER CAMERA SERVICES
The three reasons why we see sewer camera inspections as the best tool when discerning how to service your plumbing systems are that you'll save time, money, and hassle.
Save Time: Before sewer camera technology, plumbers once had to dig up and disassemble several feet of pipe to find the cause of sewer backups. Today, with the ability to quickly and efficiently view the inside of sewer pipes to find the problem, why would we go back?
Save Hassle: Not only is the aforementioned process time-consuming, but it's also quite messy. Sewer cameras make the process much quicker and easier.
Save Money: In addition to saving time and hassle, sewer camera inspections can save you money. The labor to dig out, disassemble, then reassemble pipes is expensive. A sewer camera can help take all of that out of the equation.
PROFESSIONAL SEWER CAMERA SERVICES IN OMAHA
Repairing and replacing sewer pipes can be costly, but with the technology of a sewer camera, we will give the customer the power to make an informed decision with the honest truth of what is needed and what it will actually cost before we do the job without an overinflated price. For more information about our Omaha sewer camera and sewage system inspection services and technology, call Micro Plumbing at (402) 895-1212. You can schedule a plumbing camera appointment to get started on your sewer pipe repair today!