PROFESSIONAL HOT WATER HEATER INSTALLATION IN OMAHA
At Micro Plumbing, Inc. of Omaha, water heater installation for home and commercial properties is our specialty. We make sure that you get hot water when you need it most. All too often, we take for granted the necessity of hot water. From washing clothes to washing dishes, warm water is an important part of our lives. We are plumbing experts, driven to make sure that your home has the right plumbing and parts it needs. Hiring a professional to hook up your water heater can help you make sure it's installed correctly, with all the wires, pipes, and parts in proper working order from the start.
WHY SHOULD YOU HAVE YOUR WATER HEATER PROFESSIONALLY INSTALLED?
There are several reasons why it's beneficial to have your hot water heater installed by a professional plumber.
PROFESSIONAL PLUMBERS CAN HELP SAVE YOU TIME AND STRESS
Do-it-yourself projects can be stressful, especially when they involve installing dangerous, expensive pieces of equipment that could cause damage to your home and yourself. When the professionals at Micro Plumbing come to install your water heater, you'll save time searching Google to answer common questions, watching YouTube videos to make sure you're performing the installation properly, and correcting mistakes.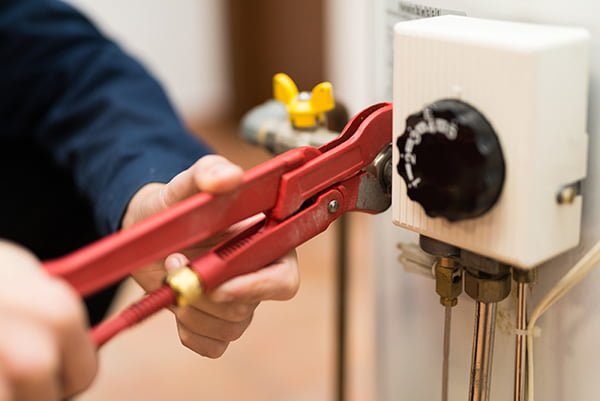 IT'S SAFER TO HAVE YOUR WATER HEATER INSTALLED BY A PROFESSIONAL
Water heaters are large and complicated, with many parts to consider in the installation process. An incorrect installation can lead to things like carbon monoxide buildup in your home, inaccurate placement of gas connections, damage to delicate parts, and scalding or other burn damage.
PROFESSIONAL PLUMBERS CAN ENSURE YOUR WATER HEATER PASSES CODE
Our licensed plumbers are already permitted and knowledgeable about all the requirements your water heater installation needs to meet in order to pass local and state inspection codes. If you're concerned about passing inspection codes, contact Micro Plumbing of Omaha. Water heater installation regulations can be complicated, and we can help!
TANKLESS AND ELECTRIC WATER HEATERS
Water heater technology has changed, making them more than just the mystery white cylinder buried in the basement or garage. Whether you want continuous hot water or a more environmentally friendly choice, options are available. Micro Plumbing, Inc. can install tankless water heaters and electric water heaters for every size home.
TANKLESS WATER HEATERS
Tankless water heaters, also referred to as instant water heaters, only heat water when it's needed, meaning hot water is in continuous supply. Because they only deliver water on demand, tankless water heaters can use up to 50% less energy compared to traditional models. Using less energy not only makes tankless heaters more energy efficient, but it can also save you money on energy bills.
ELECTRIC WATER HEATERS
When choosing a water heater for your home, it's important to keep in mind the energy cost of hot water. A significant portion of your energy bill goes to the warm water coming from your faucets, meaning that choosing an efficient water heater can save you money on electricity bills. Electric water heaters are a popular option for homeowners, as they typically boast lower upfront costs and are fairly energy efficient.
RELY ON OUR PROFESSIONAL PLUMBERS
At Micro Plumbing, Inc. of Omaha, water heater installation for home and commercial properties is our specialty.  we have the trained and licensed plumbing team you need for all of your plumbing and water heater installation needs. To learn more about our water heater installation services, contact Micro Plumbing at (402) 895-1212.