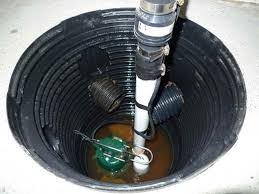 Many people use their basements as storage areas for rarely used keepsakes like photo albums or Christmas decorations, and while those items aren't constantly in your hands or in plain view, they should be protected. Heavy rains can infiltrate your foundation, and ruin your valuable items. A good sump pump will keep water where it should be: outside. Micro Plumbing of Omaha offers sump pump installation and sump pump repair services throughout Nebraska.
Sump Pump Installation
As a necessity or as a measure of protection trust Micro Plumbing for all sump pump installation needs. A sump pump is a pump used to remove water that has accumulated in a water collecting sump basin, commonly found in the basement of homes.
Don't let your basement flood and destroy your stored belongings. Be sure to properly maintain and test your sump pump regularly. A sump pump can mean the difference between one bad storm leaking gallons and gallons of water into your home, and your basement remaining dry. Micro Plumbing provides quality sump pump repair and sump pump maintenance to the Omaha area.
Schedule an Appointment
Contact Us Today For Free Estimate!! (402) 895-1212
Servicing the Following Areas: Omaha, Millard, Elkhorn, La Vista, Papillion, Ralston, Benson, Dundee, Bellevue, Bennington, Fremont