SUMP PUMP REPAIR IN OMAHA, NE
A broken sump pump can mean some serious bad news during a storm. Water accumulating in your basement or crawl space can quickly translate into costly damages and a homeowner's nightmare. Micro Plumbing offers year-round Omaha sump pump installation, repair, and maintenance services to help protect your home from unexpected water damages.
WHAT'S A SUMP PUMP?
Succinctly, a sump pump is a device that drains water out of your basement or home.
Many basements and below-home crawl spaces have a sump pit installed at the very lowest elevation in the structure. Precipitation causes water surrounding the home to infiltrate the foundation and make its way into your basement. This groundwater will funnel into a perimeter drain system installed in the base of your foundation and accumulate in your sump pit.
When the water inside your sump pit reaches a certain level, a sump pump will activate. The sump pump removes the water from your basement or crawl space and pumps it to a nearby well or storm drain.
If your sump pump isn't functioning properly, however, it may lead to a flooded basement or crawl space. To prevent disastrous flooding and water damage, sump pump repair and maintenance should be scheduled regularly.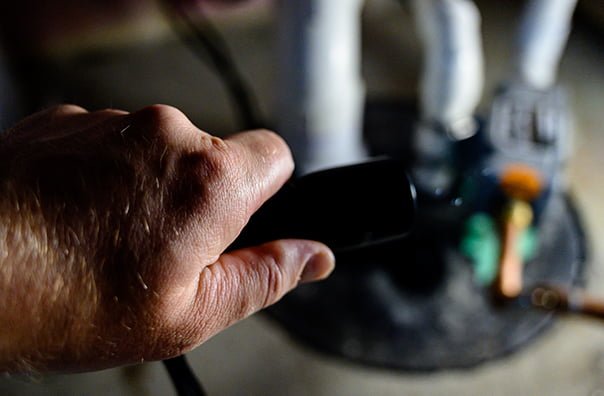 SUMP PUMP REPAIR AND MAINTENANCE
Sump pumps don't typically require much maintenance or repair, but ignoring your sump pump until it malfunctions can be seriously costly. Neglecting to repair your sump pump can lead to a flooded basement and countless destroyed belongings. We can't stress the importance of sump pump maintenance enough.
Micro Plumbing offers Omaha sump pump installation, repair, and maintenance services year round. From faulty valves to stuck floats to dead battery backups, Micro Plumbing has the expertise to identify and repair problems with your sump pump.
MICRO PLUMBING INC. SUMP PUMP REPAIR & MAINTENANCE
If you're in need of Omaha sump pump installation, repair, and maintenance services, call Micro Plumbing at (402) 895-1212 or schedule an appointment online. A quick visit from our plumbing experts can save you from lasting flood damage in the future.