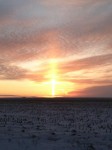 Happy New Year from All of Us at Micro Plumbing!!
As we look forward to the New Year, many of us take time to reflect on the past. We see the trials that some have faced and are thankful for the blessings of others.
Now, looking ahead, we start off with many resolutions. We are encouraged to try new gym equipment, start new diets and spend less. Whether this is mainly a result of commercial influence or the reality of our own circumstances I don't know. Regardless, we jump in with both feet and are ecstatic…to start. Then, we reach February 14th and slip up with a box of chocolates. Well, this year I have a resolution that won't result in a regretful good intention.
We are often so encouraged to enhance our own lives and conditioned to mind our own business, unless we're at a sporting event, that we fail to live for the little moments that matter. For example, putting the digital device down and saying a friendly "Hello" or making eye contact and smiling at the person grocery shopping in the same isle as you can make a difference in building families and communities in ways that matter. The best part about this New Year's Resolution is that it's doable. It's so small that it literally just takes a moment of time. The hard part is it takes intentionality. Will you join me and move forward with kindness, love and compassion for others. Let us all work hard on the resolution of being intentional with each of our attention towards others in 2016? Let's be the blessing that each of us desire. It starts with one and it's starting with me!