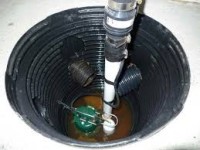 April 1st is a glorious day on the calendar because it means spring is here. Often when we think of spring, we think of birds chirping, flowers blooming, trees budding, and above all, storms brewing! In addition to finding your umbrellas, there are a few things you can do to prepare your household for the coming rain. For example, you can check the outside faucets, the sprinkler system and the sump pump. This comes highly recommended otherwise you risk the unwanted addition of a swimming pool in the basement. The kids might like it, but you won't!
So, in addition to your spring cleaning checklist, here are a few measures you can take.
Check the discharge pipe (outside) to be sure it is free from any debris that may have built up over the fall and winter months. If the pipe is clogged, water will build up and create an unwelcome mess in the basement. Ensuring that the pipe is properly connected with no obstructions is imperative.
Inside, it is a good idea to make sure the pump is plugged in. Sounds simple, but it can happen. If you have a battery backup power source you also want to ensure that this is working properly.
Also, ensure the check valve shuts on and off appropriately as needed.
Be sure that no debris has fallen into the basin by observing that the float is free of any obstructions.
If you have any problems and or questions in regard to your sump pump, outside faucets or sprinkler system, whether it is for maintenance, service or replacement, be sure to give us a call. Micro Plumbing, Inc. Big or Small, We Do It All! (402) 895-1212