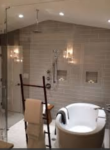 For most of us, bathrooms are purely for function and necessity. However, if you have higher hopes and are looking for an extraordinary bathroom experience, the sky is the limit! From showers, bathtubs, sinks and more, Micro Plumbing, Inc. in Omaha has bathroom remodeling services that are unmatched. Here are some ideas to get started!
Stand-alone bathtubs make a statement. They can either have contemporary edges or a curvy suave. They can look modern or antique. Either way, a stand-alone tub provides the perfect oasis for you to slip into.
If bathtubs are not your "thing," then maybe a fabulous shower awaits you after a long exhausting day. How about a shower with multiple body sprays, or columns with different ranges of water pressure? If this isn't personalized enough, how about a shower head raining down with ambient colored lights? Sequencing different colors from overhead while water rains down provides a truly customized shower experience.
Sinks, Faucets and toilets are other customizable items in the bathroom that can be used to set your bathroom design apart. They can provide more than just functionality if you consider the possibilities. Sinks have options for gold inlay, pottery styling, various prints and even glass wading sinks. Then there are pedestal sinks, drop in styles, under mounts and even vessel sinks. There are limitless options to complement any design or dream. Dare to be different and express who you are with different styling options.
Faucets come in all different lines from straight to curvy. Finishes can be polish, brushed or matte chrome, gold, oil rubbed bronze, or nickel. They can be in the sink or coming out from the wall. The options are limitless.
Toilets come in many color option just as sinks do. They can be big or small, non-descript or ornate. They come in different heights, attached to the wall, with or without a tank. There are even toilets available that have a nightlight in them. Even a simple change like a slow-closing toilet seat can make a huge difference.
So when we say there are limitless options we mean limitless options when it comes to bathroom remodeling. Here at Micro Plumbing, Inc. in Omaha, our bathroom remodeling experts can help you navigate your customizable options to make your bathroom not only functional, but also beautiful. Showers, bathtubs, sink installations and more, just give us a call. Omaha's own Micro Plumbing, Inc. Big or Small, We Do It All! (402) 895-1212.