Have you ever thought how you can set your kitchen apart—make it unique? What options are available to make your kitchen all your own? Well … I'm glad you asked!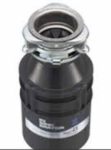 One option is to put a sizable Garbage Disposal in your kitchen. Some builders put in the basic 1/3hp disposal. That is adequate for minimal use. But did you know that there is ½, ¾, 1 and even 2hp disposal? The size needed is based on the number of people in your home and how much cooking you do. But if you really want your disposal to work for you, then you may want to upgrade. Call and speak to one of our professionals at Micro Plumbing, Inc. to get the appropriate size for you and your family's needs.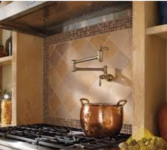 Another nice upgrade to consider is a Pot Filler. These are normally placed behind the cooking surface. What a time saver! You no longer have to shuffle your pot around. Instead, water is right at your fingertips where you're cooking. When the pot filler is not in use, it simply folds out of the way. How convenient! Another option is to place this wherever you house your coffee maker. This way you can just fill, brew and go!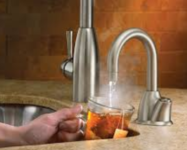 Finally, a third consideration is to install a Hot Water Dispenser. This item is placed in the sink area and gives you instant hot water. So whether you are making a hot cup of tea, soup, oatmeal, sterilizing a utensil, or a baby's bottle, or just wanting boiling water, this tool is for you! The wait is over. No more boiling water—or boiling over.
If you would like to discuss customizing your kitchen using any of the above options, call us at Micro Plumbing, Inc. We are here for you! Big or Small, We Do It All! (402) 895-1212