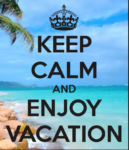 This summer while you are away there are some quick and easy ways to save on your water bill.
One of the first things a person can do is to turn down your water heater temperature. Or set your heater to the vacation setting, if it has one. This way the heater is not turning on unnecessarily to keep water hot that isn't going to be used. This may be cost savings on the electrical use in your home depending on the type of water heater.
Another way to save is outside. If you are going to be away for extended amount of time you may want to turn off the waterfall or pond. Since it is summer time there is a cost associated in the replacement evaporated of water to keep them operational.
If you are fortunate and have an in ground sprinkler system you may think of turning off the sprinkler system for the days you'll be gone. Of course this is dependent on the weather. The system can be set to vacation mode (if it has one) and have it run for a shorter duration.
Always before leaving to be sure to check that there are no toilets running or a faucet that might not of gotten turned off all of the way. If it is a possibility it is always a good idea to have someone just check on your home while you are away.
If at anytime whether home or away and you have a plumbing need give us a call. Micro Plumbing, Inc. Big or Small, We Do It All! (402) 895-1212.